Happy Wheels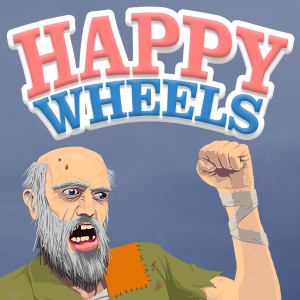 Happy Wheels is a ragdoll physics-based browser game created by Jim Bonacci. Your task in this brutal racing game is to choose your inadequately prepared racer, and ignore severe consequences in your desperate search for .
Happy Wheels features hilariously gruesome racing action. Survive wild courses without losing your limbs. You can play as an old man in a wheelchair, Segway rider, or bicycling father. Unlock new people and vehicles for even crazier stunts and mayhem!
Happy Wheels online is one of the all-time popular games on Poki alongside games like Slither io, Run 3 and Color Switch.
Controls
How to move around your characters?
- Use your arrows to drive of a cliff.
- Spacebar to shoot your gun or jump like the floor is lava.
- Hit Ctrl or Shift to perform other actions like trowing balls or grab a Jerkface.
Total Jerkface
Happy Wheels (demo) is developed by Total Jerkface. With that many grisly faces in the game, the name "Total Jerkface" was a prefect match. If you're curious about the full version of Happy Wheels, go check out their page in the app stores!
| | |
| --- | --- |
| Platform | Windows |
| Categories | Games |
| File Size | 1.47 MB |
| Create Date | July 24, 2017 |
| Last Updated | August 2, 2017 |
| Downloads | 554 |